MONTENEGRO: Montenegro Opposition Urge Minority MPs to Join Them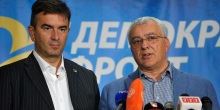 After opposition parties refused to recognize the results of Sunday's election, they have appealed to minority MPs to join them in a new interim government that would hold another election.
Article published by www.balkaninsight.com on 19 October 2016
Dusica Tomovic BIRN Podgorica
di
Emanuele G.
- giovedì 20 ottobre 2016 - 3106 letture
Montenegro's four opposition groups have urged ethnic minority representatives to join their ranks to form a new interim government, which would be tasked with organizing snap elections.
They also demanded an international probe into the allegations of a terrorist attack reportedly planned on polling day on Sunday.
Sources in the two opposition parties told BIRN that it was a natural move after on Monday the bloc opposed to Prime Minister Milo Djukanovic - which according to preliminary results won 39 of the 81 seats in parliament - refused to recognize the election results.
"We will ask the [ethnic] Albanian, Croatian and the Bosniak parties to support a minority government, which would be temporary, perhaps for a year or two, and tasked with organising fair and free elections," a party official told BIRN on Tuesday, insisting on anonymity.
The Pro-Russian Democratic Front, the civic coalition Key, the Democrats and the Social Democratic Party all decided not to recognize the election result, claiming the polls were organised in the context of a coup attempt and marked with numerous irregularities.
They call for a formation of the special commission, which should include representatives of the international community, to probe the circumstances and background to the arrests of 20 Serbian citizens ahead of Sunday's elections.
Former Serbian Gendarmerie commander Bratislav Dikic was among 20 paramilitaries detained by police on Saturday because of an alleged plan to "to disrupt Sunday's election".
The group was allegedly caught trying to enter Montenegro from Serbia with a large quantity of arms and ammunition and were arrested on charges of terrorism. Pro-government media named it a "coup attempt".
In a statement, the Prosecutor's Office said there was "reasonable suspicion" that a criminal organisation had been formed in Serbia and Montenegro at the start of October with a plan to attack citizens and police in front of the parliament once the results of Sunday's election were announced, before taking over the assembly and declaring that the party of their choice had won the polls.
"We also suspect the criminal organization planned to deprive Montenegro's Prime Minister [Djukanovic] of his freedom," the Prosecutor's Office said.
Dikic pleaded not guilty on Tuesday and started a hunger strike, saying he came to Montenegro over the weekend to visit Ostrog, near the town of Niksic, not to carry out a coup.
Meanwhile, the State Election Commission on Tuesday adopted the preliminary election results voted by for by 14 commission members from the ruling and minority parties. The 11 opposition representatives of the commission voted against.
According to the commission, Djukanovic and his Democratic Party of Socialist, DPS, in power since the first multi-party polls in Montenegro in 1991, won 36 seats. If he wins the support of minority MPs, he can count on holding at least 42 seats in parliament.
TO READ THE ORIGINAL ARTICLE CLICK HERE
FOR OTHER ARTICLES ON RECENT ELECTIONS IN MONTENEGRO CLICK HERE
CREDITS: The cover photo is taken from original article (Photo: Beta/ AP/ Darko Vojinovic)
Rispondere all'articolo
- Ci sono 0 contributi al forum. -
Policy sui Forum
-