SPECIAL ELECTIONS IN GEORGIA: Materiali per saperne di più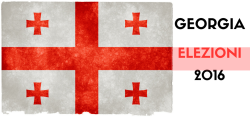 Special dedicato alle elezioni politche che si sono tenute l'otto ottobre nel paese caucasico
Due giorni fa si sono tenute delle elezioni politiche particolarmente importanti in Georgia.
Al fine di saperne di più, abbiamo deciso di raccogliere degli articoli tratti dal web in modo da ottenere un quadro particolareggiato ed analitico di quanto é succeso nel paese caucasico.
---
- Dossier dedicato alle elezioni in Georgia da parte dell'Osservatorio Balcani e Caucaso
L'8 ottobre 2016 i cittadini georgiani sono chiamati a eleggere il nuovo parlamento. In questo dossier il percorso della Georgia verso il voto.
Per accedere cliccare QUI
Fonte: Osservatorio Balcani e Caucaso (Italia)
---
- Georgia elections competitive and well-administered, although allegations and incidents of violence impacted campaign, international observers say.
TBILISI, 9 October 2016 – The 8 October parliamentary elections in Georgia were competitive, well-administered and fundamental freedoms were generally respected. The otherwise calm and open campaign atmosphere was, however, impacted by allegations of unlawful campaigning and some incidents of violence, the international observers concluded in a preliminary statement released today.
Per accedere cliccare QUI
Fonte: OSCE (Austria)
---
- Will Georgia's Parliamentary Vote Clear the "Free and Fair" Hurdle?
As Georgian voters prepare for a parliamentary election on October 8, various irregularities – among them, coup-plot allegations and the explosion of an opposition politician's car – suggest that democratic practices in Georgia still leave much to be desired.
Per accedere cliccare QUI
Fonte: Eurasianet (USA)
---
- Violence Mars Georgia's Election Season
Landmark vote comes four years after the country's first peaceful transfer of power following independence.
Per accedere cliccare QUI
Fonte: IWPR (Inghilterra)
---
- Owl, bride and special forces
How it all was, the election in Georgia
Per accere cliccare QUI
Fonte: Jam News (Georgia)
---
- Early Election Results Give Big Lead to GDDG
With almost all the votes counted, early official results of the proportional part of the October 8 parliamentary elections show ruling GDDG party winning 48.6% of votes.
Per accedere cliccare QUI
Fonte: Civil Georgia (Georgia)
---
- GEORGIA ELEZIONI: Vince ancora il Sogno Georgiano
Le elezioni parlamentari dell'8 ottobre hanno registrato la vittoria e la conferma per un secondo mandato della coalizione di governo del Sogno Georgiano, fondata dal miliardario (ed ex primo ministro) Bidzina Ivanishvili. Già nella serata di sabato il premier uscente Giorgi Kvirikashvili aveva celebrato una vittoria con "ampio margine"; tuttavia considerando che il sistema elettorale georgiano prevede che 77 dei 150 membri del parlamento vengano votati secondo un sistema proporzionale ed i rimanenti 73 in uno maggioritario, sarà necessario aspettare i ballottaggi (da svolgersi entro 25 giorni) per definire la reale composizione del nuovo parlamento.
Per accedere cliccare QUI
Fonte: EastJournal (Italia)
---
CREDITI FOTOGRAFICI: La foto di copertina è presa dal Dossier dedicato alle elezioni in Georgia da parte dell'Osservatorio Balcani e Caucaso
Rispondere all'articolo
- Ci sono 0 contributi al forum. -
Policy sui Forum
-