RUSSIA: In memory of Anna Politkovskaya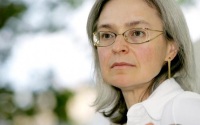 Today 10 years ago (7 October 2006) Anna Politkovskaya was killed
- TESTO IN ITALIANO
Cari colleghi giornalisti,
Il miglior modo per ricordare ANNA POLITKOVSKAJA (30 agosto 1958 - 7 ottobre 2006) è di agire in totale libertà e cercare la verità ovunque ad ogni costo.
Non può esistere un giornalista indifferente o un giornalista strumento di interessi politici ed economici.
GIORNALISMO SIGNIFICA LIBERTA' TOTALE!
- TEXT IN ENGLISH
Dear colleagues,
The best way to remember ANNA POLITKOVSKAYA (30 August 1958 – 7 October 2006) is to act always free and reaching the pure truth everywhere at any cost.
It can't exist a journalist indifferent or a journalist tool of political/economical interests.
JOURNALISM MEANS TOTAL FREEDOM!

CREDITS:
1) Cover photo is taken from the website adevarul.ro;
2) Inner photo is taken from the website https://mammaiutamamma.files.wordpress.com
Rispondere all'articolo
- Ci sono 0 contributi al forum. -
Policy sui Forum
-