GEORGIA: Georgian National Library organizes English language evenings for free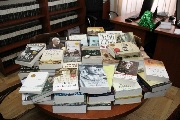 Courtesy of Georgian Journal
Published on 20 February 2017
di
Emanuele G.
- mercoledì 22 febbraio 2017 - 2670 letture
The National Library of Georgia is the initiator of yet another educational and interesting project. As the administration reports, every Friday on 18:15 Marjory and Oliver Wardrops Anglo-American Reading Hall (named after famous British scholars and diplomats, who helped to spread Georgian culture and literature internationally) will host English language evenings. Anyone, aged 10 and up, who is eager to improve one's English language skills is more than welcome to attend the reading class and perfect English language. According to Maia Simonishvili, the employee at the National Library's Public Relations Division, a curator of the Anglo-American Reading Hall, English language evenings will be carried out by American diplomat Jed Gurley who has a 2-year teaching experience in Georgia now.
As reported, the English reading class will be extremely interesting and interactive. The attendants will be able to improve their English through innovative methods of studying, by watching movies, reading books, playing various games and participating in discussions.
Free admission.
Related stories:
National Library opens Georgian book corners across the world
National Library of Georgia to provide books to Georgian Railway
Link to original article:
Georgian National Library organizes English language evenings for free
Photo credits:
The cover photo and the attached photos are parts of the original article.
Rispondere all'articolo
- Ci sono 0 contributi al forum. -
Policy sui Forum
-