Dr. Amit Goswami at WOQEM Conference 2017 - 14,15,16, July 2017 in Bangalore (India)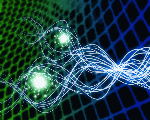 Relations between Quantum Physics and Medicine
Quantum Science gives us the most appropriate tools for the study of all aspects of human being as well as the human body, mind and emotions as they network with each other. Quantum Medicine, therefore, is a Medicine that views Life, Health and Disease as a network phenomenon and uses statistics as its analytical tool.
This unique "CONFERENCE OF QUANTUM ENERGY MEDICINE" is an initiative of WOQEM Research Foundation Pvt. Ltd. to bring fundamental awareness of the entire complexity of understanding Quantum Energy and its application in our day-to-day ordinary lives and our wellbeing.
This Conference is meant to bring to the forefront the latest WISDOM of the Quantum Energy, going for new approaches in understanding the human body as a holistic network of frequencies.​
Speakers in the conference represent some of the most successful pioneers in the Field of Quantum Energy Medicine from around the World. The conference offers an unprecedented opportunity for anyone, with an interest in learning about the future of the "World of Medicine and Health care" to learn from the masters who work at the cutting edge of research in these fields and also to know more about the opportunity to peruse further studies in this special knowledge. ​ You are invited to participate and take home value of having met with the pioneers in the field of QUANTUM PHYSICS across the globe and having expanded the wisdom of dealing with your Physical, Mental, Emotional and Spiritual Well-being with Care and Love.

Official website (click the link):
World of Quantum Energy Medicine

Other web resources (copy and paste the below links in your browser):
http://www.mahajanophthalmic.in
http://www.divinelearningunlimited.com
http://www.consciousparentingresearchfoundation.org
---

Official website of Center For Quantum Activism (click the link):

Photo credits:
The cover photo is taken from website http://cms.iopscience.iop.org
- Ci sono 0 contributi al forum. -
Policy sui Forum
-