Where death stalks the young

THE stunned people of Bridgend found themselves living in the shadow of death yesterday after yet another young suicide victim was found hanging from a tree.
(The Sun, february, 20th 2008)
by
Redazione
- Wednesday 20 February 2008 - 4081 letture
While police and politicians maintained there was no link between Jenna Parry's death and SIXTEEN previous hangings in the area, local people feared otherwise.
Security guard Michael Bennett, who stumbled on the 16-year-old's body as he walked his dog, said: "I can't understand it at all. What is going on? I feel shaken to the core. Why are youngsters around here doing this?"
Mr Bennett, 61, added: "It was shocking to find this poor young girl hanging from this tree."
Jenna lived with her father Paul, 44, mother Anne, 39, and two brothers in an end-of-terrace house in the village of Cefn Cribwr, just outside Bridgend in South Wales.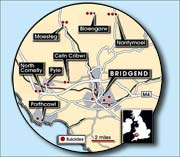 She is the 17th person aged 27 or under found hanged in the area since the start of last year.
Like many of the others, Jenna had her own pages on teenage social networking website Bebo.
Police will examine her computer. But sources said there was no immediate link between her death and controversial websites that advocate suicide.
Mr Bennett found Jenna as he walked his border collie Max in a woodland patch known as the Snake Pit, by a desolate play area on Cefn Cribwr common.
He said: "I imagine she was there from last night. She was so young and it is so horrible to die alone like that.
"I feel so sad for her and her family."
Link
In an apparent reference to Bebo, he added: "Youngsters need to talk to people like their family, not spend all their time on computers or watching television."
A link emerged last night between Jenna's death and that of a previous suicide victim.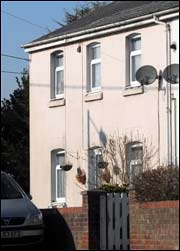 Jenna's best friend Jessica Jones, 16, was the cousin of 17-year-old Zachary Barnes, who died six months ago. All three were close pals for two years.
Jessica's mum Lisa said yesterday: "I only saw Jenna at about 7pm last night and she was laughing and giggling, without a care in the world.
"That's the sort of person she was. She had everything to live for — this is just so awful.
"I can't understand what is going on around here.
"The girls took Zachary's death very hard. It is all very tragic and impossible to explain."
Jenna's friend Daniel John, 20, said: "She was so bubbly and carefree — I cannot imagine why she would take her own life.
"She loved butterflies, pop music and dance music, and was very girly. I last spoke to her yesterday and she seemed perfectly fine. I can't get my head around why she has done this. It's an absolute shock."
Another pal, 16-year-old Rachel White, said she believed Jenna might have known several of the others who died.
She added: "Her Bebo site will probably be turned into a memorial as well. It is really hard to get your head around it. I can't believe she is gone." Jenna's shattered father said the family was "traumatised" by her suicide.
The spate of suicides began in January 2007 when 18-year-old Dale Crole hanged himself.
The others who died, in order, were David Dilling, 19; Thomas Davies, 20; Alan Price, 21; James Knight, 26; Leigh Jenkins, 22; Zachary; Jason Williams, 21; Andrew O'Neill, 19; Luke Goodridge, 20; Liam Clarke, 20; Gareth Morgan, 27; Natasha Randall, 17; Angie Fuller, 18; Nathaniel Pritchard, 15, and 20-year-old Kelly Stephenson.
Bridgend coroner Philip Walters has recorded suicide verdicts on all cases considered so far — apart from James Knight.
He died from hanging but Mr Walters brought in a narrative verdict as he was unsure James intended to take his own life.
Police and politicians appeared to give conflicting messages about the deaths yesterday.
David Morris, Assistant Chief Constable of South Wales, admitted the cluster of suicides in the Bridgend area was unique because of the "exceptional" numbers involved. But he claimed there was no evidence of a mass pact.
He said: "A number have access to social networking sites such as Bebo and MySpace. But we have not found any suggestion of any links or influence from these sites to have encouraged these young people to take their lives.
"These are vulnerable young people and there is a view that taking one's own life may become an acceptable option, but we have found no evidence of any link between them."
However, police make up part of a multi-agency group set up to tackle the problem. It also consists of social workers, mental health experts, psychologists and council chiefs. The group's Hilary Anthony said: "We have been working closely with schools and colleges, and talking to pupils and students."
The Welsh Assembly's health minister Edwina Hart revealed officials are preparing a Suicide Prevention Action Plan, which will offer counselling in schools.
But she insisted the problem affected the whole of Wales and was "not solely in one area".
Alan Briscoe, of the charity Mind Cymru, applauded the strategy — but kept the focus on Bridgend. He said: "Obviously something very serious is happening in Bridgend."
Reply to this article
- Ci sono 2 contributi al forum. -
Policy sui Forum
-
Where death stalks the young
21 February 2008, by :
A Silly Boy
I belive that there's nothing worst than die when you're 16 or 17. I'm an 18 years old boy and, if some times i felt very sad or inappropriate to live my life i have always found something to live for. I don't know what or who has convinced or forced them to hang themselves but i strongly hope that he could live all his life with a 'deathly remorse' for what he has done.
Your Silly Boy
To Silly Boy
22 February 2008, by :
Old man
Thank you for your cocerned words and I am in accord with you. It is always too late to die. Especially, you are 17.