UZBEKISTAN: Shavkat Mirziyoyev wins Uzbek presidential election by landslide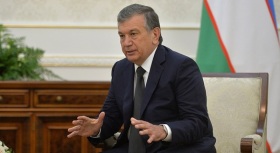 Published by AKIpress
17:17, 05 December 2016
di
Emanuele G.
- giovedì 8 dicembre 2016 - 3083 letture
Bishkek (AKIpress) - Shavkat Mirziyoyev won the historic presidential vote on Sunday by a landslide, according to the Uzbekistan Central Election Commission.
Mirziyoyev, 59, former Uzbek Prime Minister, who was named interim president after the death of Islam Karimov of stroke on September 2, won 88.61 percent of the votes or 15.9 million people voted for him, Central Election Commission head Mirza-Ulugbek Abdusalomov told a news briefing.
Turnout was 87.3 percent, he said. 17.942 million people voted.
By Uzbek law, Speaker of the Senate was supposed to become the interim president after the death of Karimov. But he opted out in favour of Mirziyoyev, who was appointed the head of the committee organizing Karimov's funeral.
Mirziyoyev was born on July 24, 1957 in a doctor's family from the Jizzakh region. He is a Tashkent Institute of Irrigation and Melioration graduate who studied engineering; holds a PhD degree in technological sciences.
In 1995-2003, Mirziyoyev was a member of the Oliy Majlis, the bicameral parliament of Uzbekistan.
In 2003, the Oliy Majlis approved Mirziyoyev's candidacy for prime minister on a recommendation of then President Islam Karimov. Later on, the Uzbek Parliament reappointed Mirziyoyev as prime minister in 2005, 2010, and 2016.
Mirziyoyev was awarded the Order of Labor Glory (Mekhnat Shukhrati) and the Order for Selfless Service (Fidokorona Khizmatlari Uchun). He is married and has 3 children (two daughters and a son).
TO READ THE ORIGINAL ARTICLE CLICK HERE
CREDITS: The cover photo is taken from the original article
Rispondere all'articolo
- Ci sono 0 contributi al forum. -
Policy sui Forum
-