ROMANIA: Collectiv effects (I)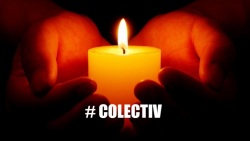 An editorial by George Popescu dealing with the immense tragedy of Club Collectiv. It was just last year.
di
Emanuele G.
- sabato 12 novembre 2016 - 2957 letture
We comemorate these days the tragic event în which 64 people died and other ca. 150 was injured în a fire, în COLECTIV club at a rock concert în Bucharest on 30th of October 2015. You can find details here: https://en.wikipedia.org/wiki/Colectiv_nightclub_fire .
Just to be clear: only 27 people of 64 died from burns and smoke inhalation during the fire!
This event revealed the weakness of Romanian state to solve such problems and, more important, how the politic would be deadly for regular people.
It is true that after 2 days of massive manifestations against Victor Ponta government, the Prime-Minister resigned, but those days decided who dies and who lives.
All responsibles, starting with Nicolae Banicioiu the heath minister and finishing with hospitals directors said that they have the best conditions, the doctors are doing everything to heal burned patients, etc. But those patients started to die. And it was a morbid counting, everyday the number of dead people increased.
An interesting figure in Romanian governments since 2012 is Raed Arafat, secretary of state responsible with the Inspectorate for Emergency Situations (ISU), which includes firefighters service, and the service of ambulance. He was part of this choir of politicians, sustaining that the hospitals have everything is needed and Romania is capable to care the burned patients.
As I said, after street manifestations in Bucharest and major cities – Cluj, Brasov, Timisoara, etc. in the morning of 4th of November 2015 Prime Minister Victor Ponta resigned.
But people continue to die.
Next day after Prime-Minister resignation, the hospitals directors, with Raed Arafat in front, they suddenly realized that are not prepared in any way for the big number of burned patients: they don't have the needed medicines, the spaces are not properly sterilized, the special bandages missing, and so on. And, the only chance for highly injured patients is to be transferred abroad, in Western countries which offered to support Romania.
There were some rumours about the "embargo" imposed in the hospitals in those 4 deadly days, employees being menaced to keep the silence about burned patients status and about the fact that the health system is malfunctioning. Also about the fact that some companies offered for free the needed materials and medicines, but they were refused.
One of proven issues was with the Emergency Hospital in Bucharest which has a dedicated ward for burned patients, but, even 9 millions of Euros were spent for that ward, it is not functional at the end of 2016. The Emergency Hospital Director at that time, Mr. Ioan Lascu, a famous plastic surgeon, inaugurate three times this ward in 2014 and 2015, with Prime-Minster, with health minister, just to build image. Because, as I've mentioned, it is not functional.
So burned patients continued to die, until they were lucky enough to be received in foreign hospitals.
In some people's opinion, those who did not care about burned patients and let them die due to poor conditions in Romanian hospitals, just to save their position, are murderers. And these are top politicians, politically nominated responsibles in ministries and hospitals who tried to cover the mess from health system that they manage with huge costs for regular people.
Of course, an investigation is opened, but it seems that some conclusions in next few years, because many of public authorities and top politicians could be accused due to the fact that, even it exists safety laws, these are not applied. And those who are responsible for application of the law are in important positions. About this, next time.
CREDITS: The cover photo is taken from website http://www.romaniajournal.ro
- Ci sono 0 contributi al forum. -
Policy sui Forum
-