BULGARIA: Come ho intervistato Jane Fonda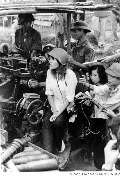 La nostra corrispondente dalla Bulgaria Anna Georgieva racconta una storia dei suoi primi passi come giornalista sulla Televisione nazionale bulgara
di
Emanuele G.
- lunedì 24 settembre 2018 - 2636 letture
Mio testo è stato pubblicato un anno fa su settimnale NAD 55 / oltre 55/. Questo giornale non ha una versione per Internet, quindi ho scattato un foto della pagina e l'ho messo sul muro di Jane Fonda in Facebook e poi su suo figlio Troy Garity - anche un attore.
Dopo il tempo ho ricevuto una lettera da Troy - era interessato a dove sono, cosa so, gli ho risposto chi sono - penso che abbia incontrato qualcuno dalla Bulgaria per prima volta. Molto voleva che leggessi il mio articolo - gli ho promesso di tradurlo in inglese.
Ma ho avuto un problema serio con i miei occhi e gli ho detto. Ho subito ricevuto una lettera in cui lui era preoccupato per me - molto più dei medici bulgari dell'ospedale. Mi stavo dicendo che non dovevo fidarmi così tanto dei medici che non mi davano una buona prospettiva. Troy ha scrito che avrebbe pregato per la mia salute - cosa que non mi aspettavo di una persona completmente sconosciuta.
Ho tradotto il testo e l'ho mandato a lui - c'era di nuovo una lettera dolce. Ovvio Troy è un uomo buono e delicato. Sono sicuro che Jane Fonda abbia letto il mio testo, che ora sto offrendo in inglese per i lettori di Giro.
The Filmfest in Leipzig was the most renowned documentay film competition in Europe. Started in 1961 in German Democratic Republic the festiaval represented a broad panorama showing the political events in the world during 70s and 80s last century. One week at the end of November in that beautiful century-old city, where European nation united defeated Napoleon's Army and raised the impressive memorial " The Battle of the Nations", met documetary filmmakers from many countries. Thay not only did movies, but took part in the events of the most resent history.At the beginning of 70s the leading topic was Vietnam War.
At the 17 th International festival 23 - 30 November 1974 suddenly appeared Jane Fonda. She was already a famous movi star, we, in Bulgaria had seen Sydney Pollak's cult movie " They shoot horses, don't they?" . 1972 Jane Fonda received his first American Film Academy Award for the Best Actress in leding role for Alan Pakula's " Klute".
At the main festival cinema " Kapitol" Jane Fonda presented her one-hour documentary " Introduction to the Enemy " - an incredible journey through the Vietnam tortured land, she did in the spring 1974 with her husband Tom Hayden, well-known .public fugure and opponent of the Vietnam War and their little boy Troy, born July 7th 1973. They gave their son the name of a Vietnamese martyr, killed at 24 years. Actually Jane had been in Vietnam first time during 1972 with her camera. All we in the cinema hall had seen before shattering pictres and movie shots form the U S aggresion in Vietnam, but now an American was showing what was left from the destroid peacefull towns and villages. Jane Fonda had traveled from North to the South among the Vietnamese talking to them and experienced their personal tragedies.Neverlass the people o Vietnam kept the hope and optimism for the future - actually they won and united their homeland , devided before the war on two countries.1975 North and South Vietnam united and the captal of South Vitnam - Saigon adopted the name of the national hero Ho- Chi-Minh. All that time in USA contunued to spread a poster with a 'police photo' of the actress with the inscription 'Hanoi-Jane traitor'.
At te same cinema all had been shown the Bulgarian documentary " Builders" by the known filmmaker Christo Kovachev, who was perfect director of photography too - he has transformed the construction sites and the metal formworks of the first Bulgarian nuclear powerplant into a beautiful braces where the builders climbed up higher and higher.Somebody told to Jane Fonda about and she wanted to watch it. It was given a special screening.
I undersood for that event later, when she and some Bulgarian colleagues already talked about in a small hall. Jane Fonda was quite exited about what she saw. It seemed she was influenced by the contrast between her experience in Vietnam and the calm move of life in Bulgaria.' I want to show this movie in the States' she said.
The presentaion of the documentary " Builders" was really geat event for us, the Bulgarian filmmakes, I had the task of doing two-hour program about the Festival for the Bulgarian National TV. The collegues of GDR TV provided in the same building a studio some days for two hours for me to get interviews.
The meeting with Jane Fonda was running in the early afternoon, during " our studio". I wondered how to invite her for a brief interview knewing that such things without prior arrangement are not desirable - she was world movie star. But the meeting was obviously over and I there was not choice: " Dear, Jane Fonda, you are saying wonderful worlds about " Buliders" ceated on the Bulgarian TV, but it will much better if the million TV viewers in Bulgaria have the possiblility to see you. I have a studio one store above in the building just now and bag you to share with me 5 minutes for short interview."
She thougth for a moment, got up, said " Okay" and we walked together. My colleagues stayed open and I understood what television means - a millions audience.
We hurried into the corridor, I felt her distracted look over me, she is quite tall, perhaps about 1.75 and I wondered how to melt the ice. We have shared friends - I said. She would almost laugh.

Who are they ?

Wifred Burchett and his wife Vessa - was my answere.
She paused for a moment.

Oh, Vessa is a Bulgarian ! - she said
Suddenly Jane Fonda changed - the known Australian journalist, one of the messangers of the truth about the Vietnam War,were her close friend.
Burchett often came to rest at the International House of Journalists in Varna were we met. He was cheerful and friendly person and nobody from us could guess he came from some area of military conflict. He liked to weare a beautiful cone-shaped Vietnamese hat.
Than I briefly told her how I met Wilfed and Vessa in Paris , November 1971, at Avenue Kleber, where in that time continued the peace talks to end the Vietnam War. Burchett's invited me to go with them to the negotiations and told me that there was their firend Jane Fonda, and she left for a few days. I was sorry, I was not in Parise to introdice myself to her.She laughed and said- "Well, I'm here now. " .
I menaged to tell her briefly that we in Bulgaria know her movies and she has many fans there..
Here is what she told about " The Builders" before the camera: /sorry, don't have the original in English anymore, so this is my retranslate from Bulgarian /' The movie is one of the best ever seen by myself -the image of the constuction workers is fascinating. For me, the American actress, is interesting to see the people who realy love their profession, who are involved in the labor prosses, the class solidarity is lives in them. The movie has captured the beauty of their work, the beauty of what is born of their hands. Indeed, it is a working-class film, filled with life and mood, that makes me very excited. I would very much like American workers to have the opportunity to watch it."
My second question was: Do you think tht documentaries can play some role in the struggle for peace, and generally in all battles of the mankind for progress?
She replied, "Yes, these films are like a mirror, documentaries are a reflection of life, of reality, sometimes of suffering, of struggle, of progress. The frank film helps people understand life better, teaches them how to prepare for the future.These films are a political weapon. " At the end I told her:" I am very happy that the Bulgarian viewers will have the opportunity to see and hear you."
The documentary " Builders"received the main pize - the Goden Piggeon - for first time Bulgarian movie was rated so high.
In my two-hour program that I made and lead for the Bulgarian National TV there were another important highlights. I met in Leipzig documentary filmmaker from Chile, who had recently escaped from the death camps of general Pinochet and showed their first documentaries. Actually the festival in Leipzig is still held today but has already lost its face and goals.
At the beginning of the 80s of the last centuryWilfred Burchett came to Bulgaria with the intention to spend the rest of his life here and to write his memiors.I visited him and Vessa and told them about how I 'unloked' Jane Fonda with his name and they laughed...
I had the intention to do a documentay about him, but infortunately at the end of September 1983 he left us. Nothing else was left except to write a long article at the magazine Europe I was working for in that time - Burchett was unique personality - he survieved between the military fronts of the world and intrigues of his enemies.I always associate him with Jane Fonda.
The American Film Academy awarded her seconde time Best acrtess in a leading role in one of the dramatic movies about Vietnam War - Hal Ashby's " Coming home" , where Jon Voight / Angelina Joly's father/ is her partner, awarded Best actor in a leading role.His character has becom a symbol for the antire generation of American veterans from Vietnam War- disabled not only phisically, but also mentally. At the Ceremony Jon Voight said:" Thank to Jane Fonda for our joint work , she is a person of great dignity."
The final statisics of the Vietnam War coninue to terrify the world - two million peaceful Vietnamese killed and another 1 300 000 soldiers and partisans form North and South Vietnam, The killed US soldiers are 58 000, from the returned phisicaly and mentally destroyed the number of suicides is about 50 000. On the granit wall of the Memorial in Washigton are engraved the names of all perished soldiers - thier relatives come and coppy on paper their names.
Jane Fonda went throught the world and through the creativity upward - not cheating on her rebellious start as fierce opponent of the US aggression in Vietnam - she kept her active humanism.
2014 the American Film Instutut awarded her the Life Achievement Award, not forgetting to emphasize her political activity On the ceremony her son Troy Garity said:" If my mother thinks it was difficult being daughter of Henry Fonda, you shoud try being the son of Hanoi Jane !"
Photo credits:
La foto di copertina e le foto in allegato ci sono state fornite dall'autrice dell'articolo
Rispondere all'articolo
- Ci sono 0 contributi al forum. -
Policy sui Forum
-